Those who've been following the evolving regulatory landscape around digital assets in the U.S. know the situation is far from resolved. In addition, early 2023 turbulence in the nation's banking industry left many crypto companies without a home. While this initially complicated our mission to act as a seamless bridge between centralized and decentralized services, a solution presented itself. We opted to part ways with the U.S. dollar until traditional rails and regulators can reach a consensus on how to co-exist with the crypto space.
This may sound like a huge change, but in practice these adjustments have streamlined our product ecosystem to become crypto first, with the potential to offer greater user protections. By not holding balances in USD or transacting through banking intermediaries, U.S.-based users are poised to be better insulated from the potential hazards of fiat currency. Not to mention, CEX.IO's long-standing partnerships with legacy and emerging payment leaders empower users with the luxury of choice that reflects contemporary demand.
To provide some guidance amidst the shifting ground, we thought it was time to update our U.S. community on what services remain available, and how to access them. From our popular and innovative Instant Buy solution, to the all-in-one CEX.IO App, to connecting your preferred payment method(s), we've got you covered. Plus, the App's sleek new design captures the rugged excitement and sublime wonder of navigating the digital asset space.
While Staking, Saving, and Exchange services remain unavailable in the U.S., users can still buy and sell crypto through a variety of convenient means. Follow along below as we provide some clarity for our U.S.-based enthusiasts, on the pathways that remain open to pursue emerging opportunities.
How to buy crypto using CEX.IO/CEX.IO Wallet
The first step toward utilizing our award-winning ecosystem of crypto products and services is to create an account and get verified. U.S.-based users should have a government-issued ID and their Social Security Number ready, and can choose to complete the process via a web browser or our mobile app. Not only will this help ensure that funds and information remain secure, but it increases the number of payment methods and tools available across our product suite. Our use of a trusted two-factor authentication (2FA) service can also help provide further protection for your account.
Once the verification process is complete, you'll unlock the ability to pair a credit or debit card with your account. While you can absolutely start by browsing digital assets, taking the time to link a preferred payment method can help avoid future urgency should an opportunity present itself. Let's outline how to pair a credit or debit card using a web browser and our mobile app.
How to pair a debit card using a web browser
1.Go to CEX.IO and Login to your account.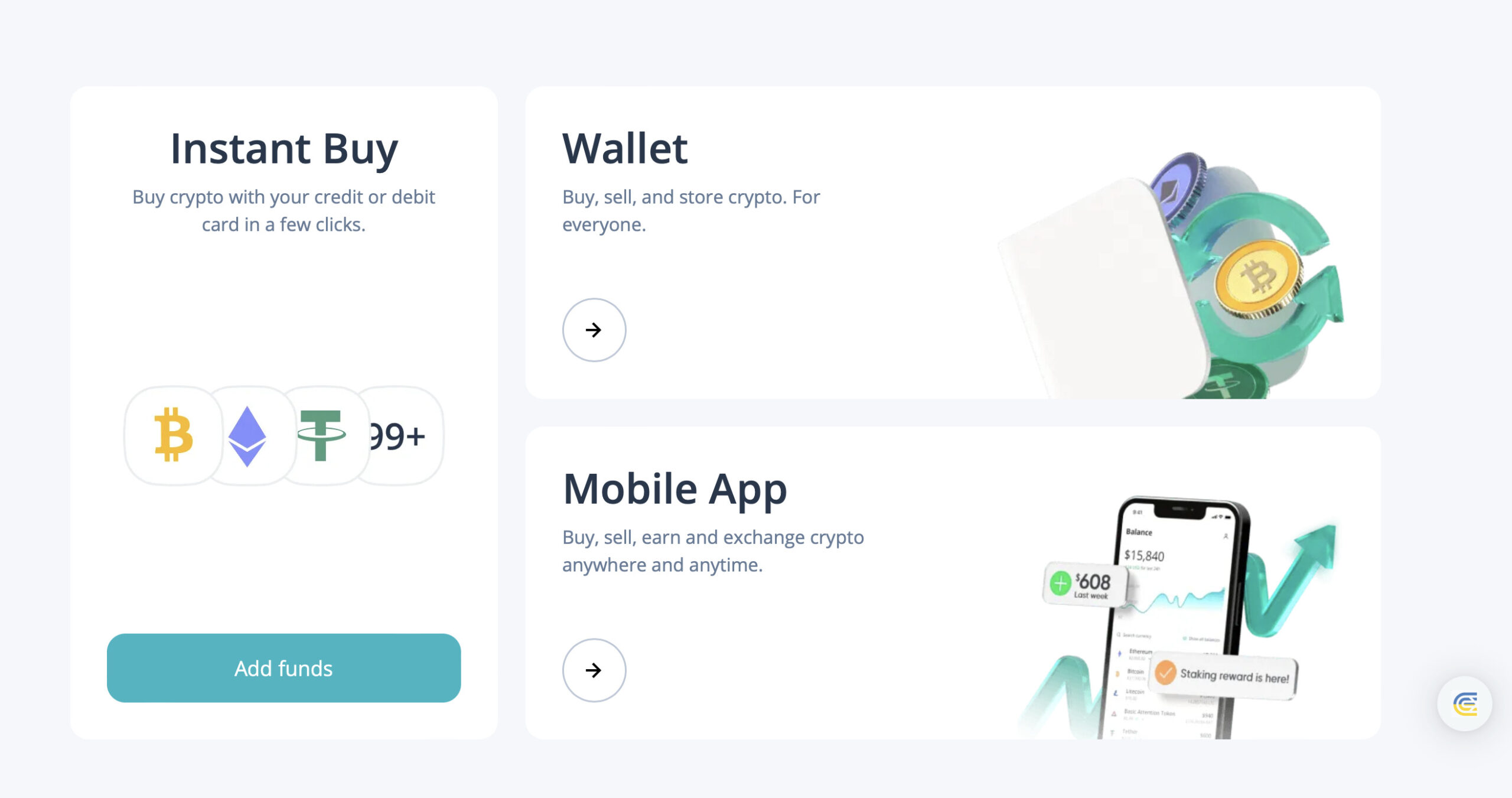 2. Choose Wallet card and then click Add funds in the upper right hand corner of the screen.

3. Navigate left, and click Select payment method.
4. On the pop-up, select Debit Card at the bottom.
5. Enter card information and click Add Card.
When you return to the main Add Funds menu, you can select your preferred debit card to complete crypto purchases. To enable or pair additional payment methods, such as Apple Pay, Google Pay, and PayPal, revisit and complete this process to expand your choices across our ecosystem. This will help ensure greater value mobility, and allow for quicker reaction times to advantageous price movements. Now, let's explore how to pair a debit card using the CEX.IO App.
How to pair a debit card using the CEX.IO App
When you need to take your crypto journey on the go, the CEX.IO App bundles our most popular Instant Buy, Sell, and Convert solutions right at your fingertips. Plus, the intuitive design makes browsing available assets, payment methods, and funding options as straightforward as possible. Before purchasing, let's learn how to pair a debit card through the CEX.IO App.
From the home screen, tap the Profile icon in the upper left corner.&
2. Select Payment methods under Profile.
3. Tap Link a new account
4. Tap Debit Card.
5. Enter your card information. When complete, tap Submit in the upper right corner.
Once this flow is completed, you'll be able to make crypto purchases directly with your linked debit card. Depending on the policies set by your card issuing bank, withdrawals to a preferred debit card may be enabled. Please note that this process can be repeated to integrate other payment methods for use across our ecosystem as mentioned above.&
Now that we know how to enable a preferred debit card, let's walk through completing purchases with Wallet in a web browser.
How to buy crypto using Instant Buy
To take the next step and purchase a digital asset:
Sign in to your account, and navigate to the Products dropdown menu on the CEX.IO homepage, and locate Instant Buy in the center column.&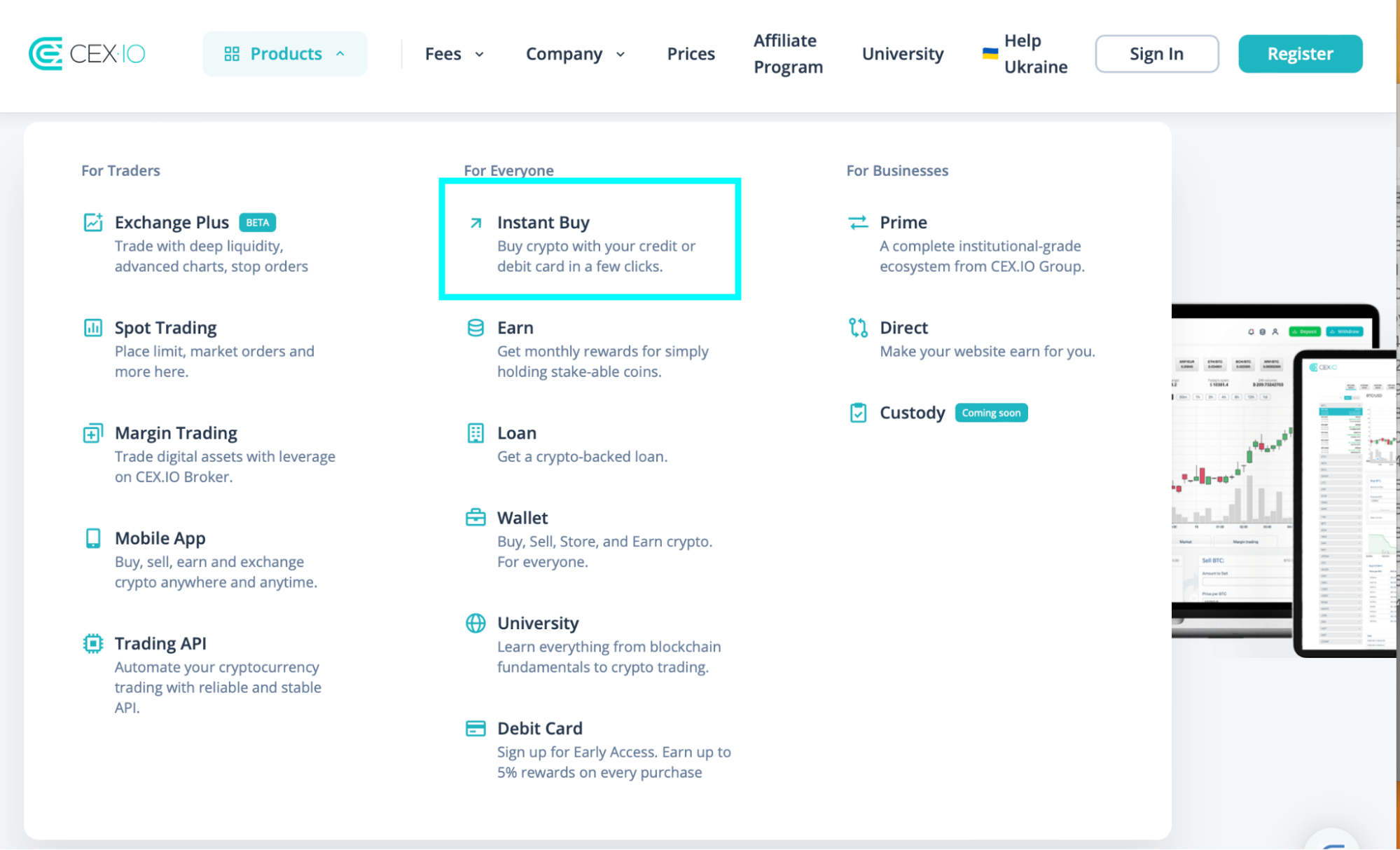 2. From here, you can choose to buy a variety of cryptocurrencies in pre-selected allotments or customizable amounts. Choose from one of the pre-packaged totals or enter your own into the spaces provided. Once you're satisfied with the amounts, click Buy.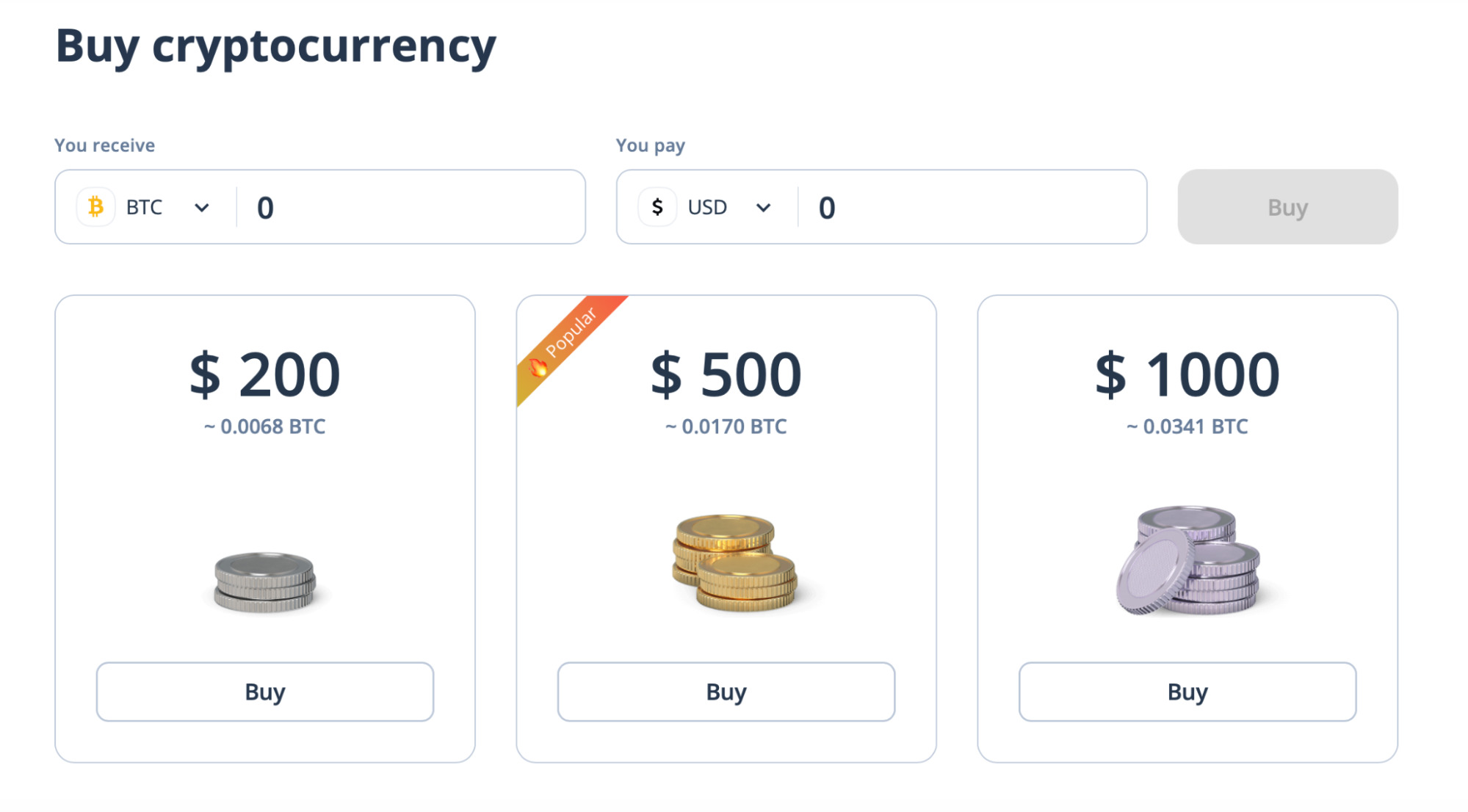 3. Next you'll have the opportunity to choose a preferred payment method. Confirm the asset and the amount you'd like to purchase, then click Select payment method on the left side of the screen.Then, in the pop-up window that appears, choose Debit Card.
4. After carefully double checking your card information and transaction details, confirm your purchase on the right hand side of the screen. You'll now be able to access your crypto from both a web browser and the CEX.IO App, which is available for both iOS and Android users.
How to buy crypto using CEX.IO Wallet
In addition to Instant Buy, U.S.-based users can elect to purchase crypto using CEX.IO Wallet through a preferred web browser:

Navigate to the Products dropdown menu on the CEX.IO homepage, and locate Wallet in the center column.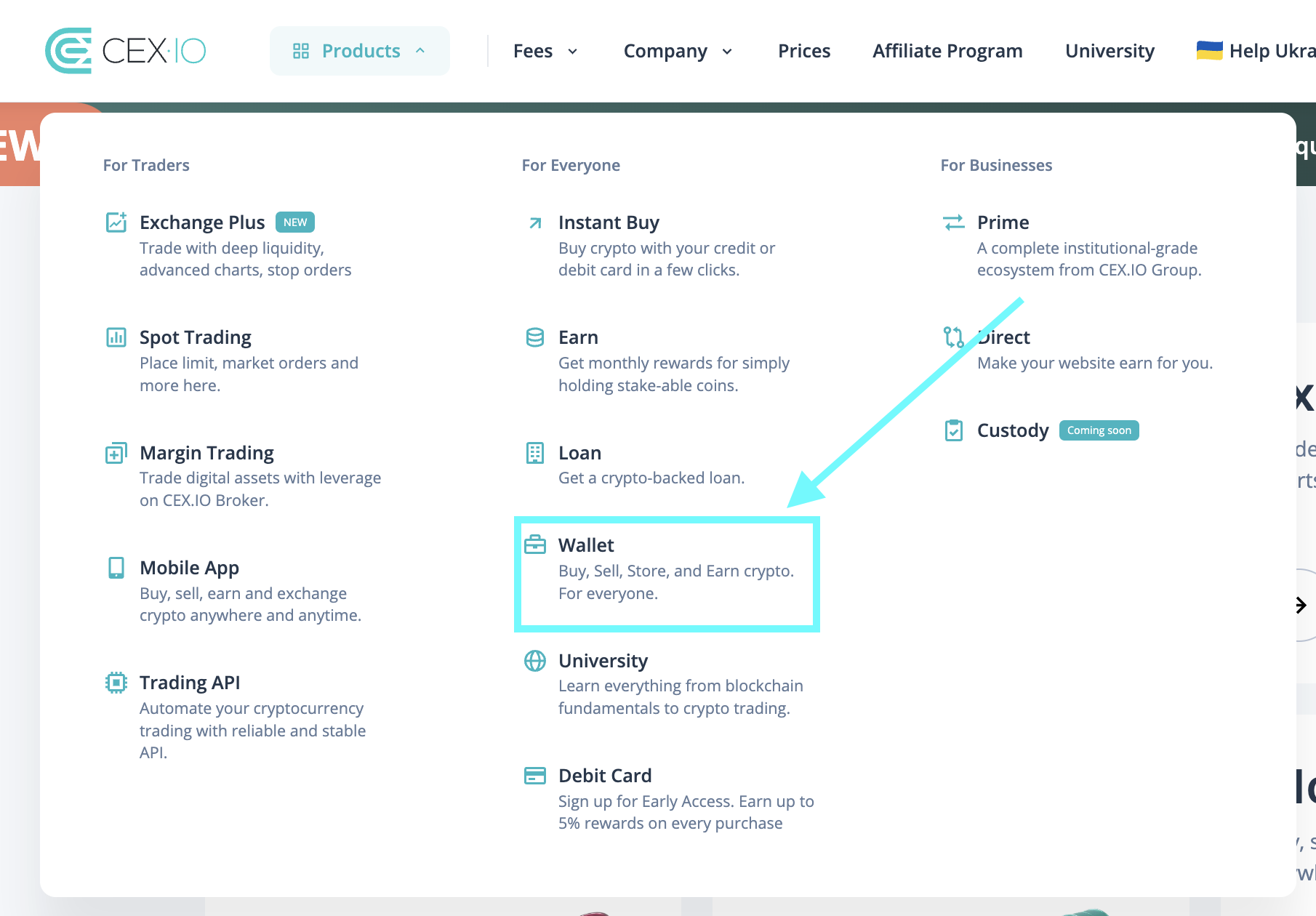 2. Next, you'll see all our current listings that are available in your jurisdiction. To purchase crypto on this page, click Add Funds across from the asset of your choice.
3. From here, confirm your selected crypto, and choose a payment method. All linked or potentially linkable payment methods will appear in the popup menu.
4. Next, enter the amount of the asset you wish to purchase, and click the Proceed button to complete your transaction.
From here, your crypto will appear in your CEX.IO Wallet, and be accessible across our product ecosystem. You can repeat this process to purchase any digital asset we have listed that's also available in your jurisdiction. In turn, Wallet can also be utilized to Convert digital and fiat currencies, as well as Withdraw funds to eligible accounts depending on the regulatory climate in your region.
How to buy crypto using the CEX.IO App
Now that you know how to buy crypto using Instant Buy and through our Wallet services, let's learn how to complete purchases with the CEX.IO App. Similar to the example above, we recommend having a preferred payment method registered in the App prior to attempting any transactions. You can connect credit/debit cards, as well as choose Apple Pay, Google Pay, and PayPal to buy crypto on your iOS or Android device.
Now that you have your payment methods registered and ready to purchase crypto, let's go through the purchasing process using Bitcoin as an example:
Tap the Arrows icon on the App home screen, or the Bitcoin tab under Express Buy (skip to step 4).
2. From the tray, select Add Funds.
3. Enter Bitcoin into the search bar, and select from the list.
4. Enter the amount of BTC you wish to purchase, select a linked payment method to fund the transaction, then tap Buy BTC.
5. Review your purchase, and tap Confirm when ready.
6. The Success screen offers pathways back to review your profile or transaction details.
Similar to using a web browser, any crypto you purchase with CEX.IO is accessible throughout our product ecosystem. However, please note that the availability of payment methods and digital assets in your region is contingent on the regulatory landscape. To stay informed of any service changes, follow CEX.IO's official channels on social media.
We hope this helped provide some clarity on how to continue utilizing our services during this period of transition and growth. While we anticipate more changes are likely to occur, we will continue to do our utmost to keep channels available where possible to aid in your crypto journey. Stay tuned for more updates on the refinement of our product ecosystem.
Disclaimer:&
The availability of the products, features, and services on the CEX.IO platform is subject to jurisdictional limitations. CEX.IO may not offer certain products, features, and services on the CEX.IO platform in certain jurisdictions due to potential or actual regulatory restrictions. For more information, see our Licenses and Registrations.&
The web content provided by CEX.IO is for educational purposes only. The information and tools provided neither are, nor should be construed as, an offer, or a solicitation of an offer, or a recommendation, to buy, sell or hold any digital asset or to open a particular account or engage in any specific investment strategy.
Digital asset markets are highly volatile and can lead to loss of funds.&
CEX.IO Corp. is not a registered broker-dealer or FINRA member. Crypto is not insured by the Federal Deposit Insurance Corporation (FDIC) or the Securities Investor Protection Corporation (SIPC).
Taxes may be payable on any return and/or on any increase in the value of your digital assets and you should seek independent advice on your tax obligations.
Please refer to the Terms of Use for more details.
For information concerning fees, see our Limits and Commissions.
You can get bonuses upto $100 FREE BONUS when you:
💰 Install these recommended apps:
💲 SocialGood - 100% Crypto Back on Everyday Shopping
💲 xPortal - The DeFi For The Next Billion
💲 CryptoTab Browser - Lightweight, fast, and ready to mine!
💰 Register on these recommended exchanges:
🟡 Binance🟡 Bitfinex🟡 Bitmart🟡 Bittrex🟡 Bitget
🟡 CoinEx🟡 Crypto.com🟡 Gate.io🟡 Huobi🟡 Kucoin.